Valparna födda! Puppies are born!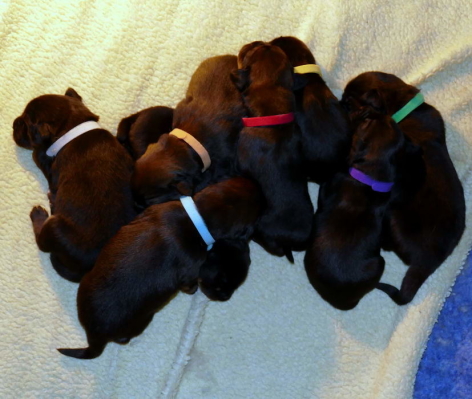 Status Benevoles Taiyang & Sierras' Disa Joy to Bod Khyi har fått 8 valpar. / Taiyang and Disa got 8 puppies.

Vi upprepade parningen som gjordes för 3 år sedan. / We repeated the same breeding as we made 3 years ago.

I slutet av sidan finns mer information om föräldrarna. / At the bottom of this side more info is given about the parents

Vi kan se vackra valpar med stadig stomme, imponerande huvuden, djupt färgpigment och både gold sable samt black& tan valpar. / We can see lovely puppies with good substans, impressive sculls, deep colour and gold sable as well as b & t puppies.

Disa förväntas bidra med utmärkt struktur, utmärkt skallform, stark rygglinje och utmärkt steg. Taiyang förväntas bidra med ljuvlig mentalitet, utmärkt skallform, pälslängd, mörkt ögonpigment och välformade ögon, imponderande svans samt storlek. / Disa contributes with excellent structure and shape of head, strong backline and excellent steps. Taiyang contributes with wonderful mentality, excellent scull, dark eye pigment, well shaped eyes and lenth of fur, impressive tail and the sweetest mentality.

Kullens inavelsgrad enligt SKK är 0 %./ COI according to SKK is 0.


Kullens namn är Ser,vilket betyder GULD på tibetanska. Valparnas individuella namn har alla bäring på guld på ett eller annat sätt. / The name of the litter is Ser,wich means GOLD. The individual names of the puppies will mean gold in a way or another.

Valparnas färger utvecklas hela tiden. Vi kommer att se flera mörkt golden i kullen likväl som Black & tan. / The colours of the puppies change over time. We will see several dark golden as well as Black & tan.

BOD KHYI SER
Hanar / Males
Bod Khyi Ser Kalden (betyder Of the golden age på tibetanska
Bod Khyi Ser Zar (guld på afrikaan)
Bod Khyi Ser Midas (antikens kung som önskade att allt han rörde blev guld)
Tikar/Bitches
Bod Khyi Ser Gullan
Bod Khyi Ser Saffran (krydda)
Bod Khyi Ser Ockra (guld färg)
Bod Khyi Ser Vanna (guld på Khmerspråk urspr från Sanskrit)
Bod Khyi Ser Talayeh (golden ray of sun, advanced guard, persiskt kvinnonamn)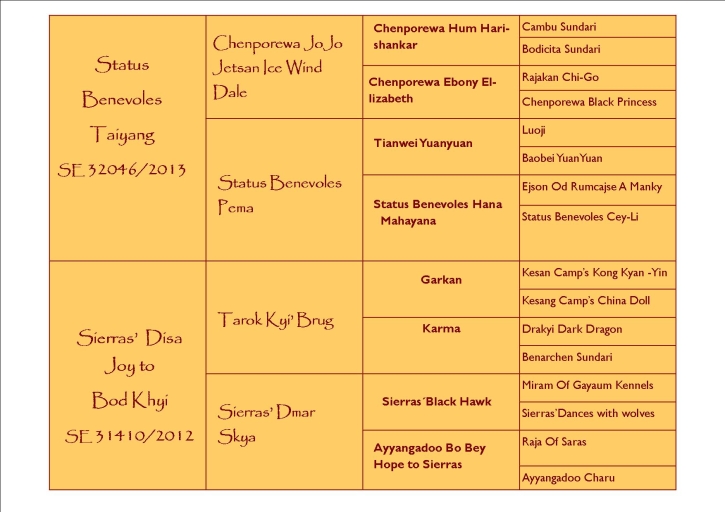 Disa - Sierras' Disa Joy to Bod Khyi

Född/Born: 2012 01 21
Hälsa/Health: Hd:B/B
Ed:0. Ögon/Eyes:Ua
Thyroidea; healhty
Size: 66 cm and 48 kg
Titel: SE UCH
Meriter: 7 CERT,
2 CACIB, 8 BIR, 7 BIR valp. BIS 2 valp på Tibethund 2012.
Avel: En valpkull 2014. One litter in 2014
Föräldrar/Parents: Tarok Kyi Brug' & Sierras' Dmar Skya
Heritage: Disa is registered in the Tibetan Mastiff Preservations Register as a true descendant.
Mentalitet/Mentality: Loyal, gott självförtroende, intelligent, älskar sin familj, god väktare / Loyal, self confident, intelligent, loves her family, a good guardient.
Född/Born: 2013-01-16
Hälsa/Health: Hd: A/B
Ed:0.
Size: 73 cm and 55 kg
Titel: SE UCH.
Meriter: 3 CERT. 1 CACIB. 1 reserv CACIB
Avel: En valpkull 2014 / One litter in 2014.
Föräldrar/Parents: Chenporewa Jojo Jetsan Icewinddale & Status Benevoles Pema
Mentalitet/Mentality: Vänlig, tillgiven, snäll. god väktare. En älskad familjehund, som vandrar fritt på gården och som vet skillnad på människor han gillar och andra han inte är förtjust i. Ger små käreksnaggningar, gärna i rumpan. En snäll lurv kort och gott./ Friendly, faithful, kind and good guardient. A beloved familydog who wanders pretty free at his place and who knows whom he likes and dislikes. Scilled at giving lovebites. A lovely goofy dog.
Disa och Taiyang galleri.
Hälsostamtavla för planerad kull från Amerikansk databas.
Lägg till din egen HTML-kod här.
Pedigree of future litter
future litter
HD: B/B
ED: 0/0
STATUS BENEVOLES TAIYANG

HD: A/A
ED: 0/0
CHENPOREWA JOJO JETSAN ICE WIND DALE

HD: A/A
ED: 0/0
Eyes: Clear
CHENPOREWA HUM HARISHANKAR

HD: A/B
ED: 0/0
CHENPOREWA EBONY ELLIZABETH
HD: C/C
ED: 0/0
Eyes: clear
STATUS BENEVOLES PEMA
HD: 0/0
TIANWEI YUANYUAN
HD: B/C
ED: 0/0
Eyes: clear
STATUS BENEVOLES HANA MAHAYANA

HD: B/B
ED: 0/0
Eyes: perfect
Other: thyroid normal
SIERRAS' DISA JOY TO BODKHYI

HD: DI (0.26/0.23) Less than 0.3 with no DJD (90th percentile)
ED: OFA clear elbows
Eyes: CERF clear
Other: Thyroid Normal TM-TH53/21M-VPI
TAROK KYI'BRUG
HD: TM-672G40M-VPI GOOD
ED: TM-EL287M40-VPI NORMAL
GARKAN
HD: TM673G40F-VPI GOOD
ED: DEGENERATIVE JOINT DISEASE III UNILATERAL RIGHT
KARMA

HD: prelim'd excellent/PH .34/.34
ED: OFA normal
Eyes: normal
Other: thyroid normal
SIERRAS' DMAR SKYA

HD: TM-187F24M FAIR
Eyes: clear
Other: normal thyroid
SIERRAS' BLACK HAWKE

HD: OFA Prelim Excellent/Penn Hip .30/.32
ED: Normal
Eyes: Normal
Other: thyroid normal (T4/T3, Free T4/Free T3, TGAA)
AYYANGADOO BO-BEY-HOPE TO SIERRAS'
This pedigree was generated by The Tibetan Mastiff Info Pedigree Database